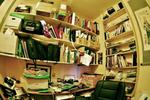 Every year when we turn the page of the calendar for the New Year to start I am struck with an overwhelming "urge to purge" any clutter in my life and organize.  I'm happy to say that I've already tackled my closet and also some of my kitchen drawers (where I found about 1,000 random pens, pencils and paper clips strewn about amongst other random things!).
But what about financial clutter? How do you start to de-clutter your financial life?
Simply decide to start somewhere.  Yup, that's it – just decide and start doing things little bit by little bit.
Here are a few questions that I ask my clients to help them start to decrease the amount of financial clutter in their lives:
Do you have financial clutter in your mind?
Financial clutter isn't just stuff that you can physically see.  It can also show up in how you think about money.  When it comes to money, what does your energy feel like? Is it full of upset, resentment, anger, guilt, fear or tightness or is it full of happiness, gratitude, positivity and abundance?  Most people I meet live a life where their energy and attitudes about money aren't all that helpful (i.e. guilt, fear, etc.) instead of living a life where they have more positive attitudes about money.  The Law of Attraction essentially says that you'll attract more of whatever you're currently feeling – so if you're feeling negatively about money you'll get more of that and if you're feeling positively about money you'll get more of that.  Which would you rather feel right now? Decide to think (and act) positively regarding money and you'll likely see improvements in your financial life pretty quickly.
Do you have financial clutter in your day-to-day living?
Day-to-day financial clutter takes many forms such as bills and receipt clutter, loose money or change, or my personal favorite "Ugly Wallet Syndrome."  You know, where you can barely close your wallet there's so much jammed in it?!?  If you've got financial receipts and change all over the place, how much respect are you showing your money?  Pick yourself up a clean new wallet or a small zip-top bag to keep your receipts organized, and you're well on your way to cutting through this type of clutter.
Do you have financial clutter in your personal relationships?
Ask yourself, does anyone owe you money that you haven't followed up on in a while?  Do you have any uncomfortable situations regarding someone else around money (hint: most people do)?  Many people are afraid to confront financial situations such as this because it has the potential to create conflict with loved ones.  However, if you don't take the step to empower yourself and be proactive, you're potentially sending the message that money doesn't matter to you (even if it does).
These 3 areas of financial clutter are a great place to begin to determine where financial clutter might be holding you back.  With a few simple questions you can start kicking your financial clutter to the curb one step at a time.  As the old saying goes, Rome wasn't built in a day and clearing financial clutter takes time too!